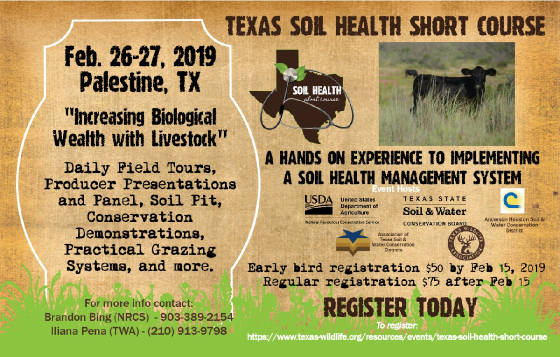 CLICK HERE for News Release for Soil Health Course to offer Educational Information to Land Managers
Round Table Meeting - May 20, 2017 - Marshall, TX

Ralph B. Jordan, County Executive Director, USDA/FSA

Lynn Young, TSFR/CBO County Outreach Facilitaor

Roundtable Meeting - February 11, 2017 - Tyler, TX




Terry Jackson, TSFR/CBO County Outreach Facilitaor

Melinda Brakie, USDA/NRCS Soil Conservationist, Nacogdoches, TX

Wade Ross, TSFR/CBO Founder & State Director

Roundtable Meeting




August 18, 2017 - Wolfe City, TX

Wade Ross, TSFR/CBO Founder & State Director

Keith D. Hiser, District Director, USDA/FSA Sulphur Springs

David Mims, TSFR/CBO County Outreach Facilitaor

EQIP Local Work Group (LWG) Meetings Local Soil and Water Conservation Districts are inviting the public to participate in identifying the resource concerns and conservation priorities in meetings to be held across all counties in Texas. The meetings will focus on the Environmental Quality Incentives Program, but also on the new resource concerns identified in the recently passed Food, Energy and Conservation Act, also known as the 2014 Farm Bill. The new emphasis will involve concerns and issues regarding pollinating insects, organic farming and forestry. The purpose of this meeting is to gather comments from local entities, especially farmers and ranchers that have an interest in natural resource conditions and needs. The discussion and recommendations from the participants in the meeting will assist NRCS conservationists with program direction of the Environmental Quality Incentives Program and resource concerns for other USDA programs for Fiscal Year 2017. If you would like more information on the ranking to be used, contact the local NRCS Office or your Soil and Water Conservation District. CLICK HERE for Texas Conservation Planning Meeting Schedule

UNITED IN OUTREACH! United States Department of Agriculture (USDA) State of Texas Directors and Assistant Secretary of Civil Rights joined TSFR/CBO at first meeting, June 23, 2016 at new outreach location in Marlin, TX!

From Left to Right:

Salvador Salinas, State Conservationist, USDA Natural Resources Conservation Service (NRCS);
Judith A. Canales, State Executive Director, USDA Farm Service Agency (FSA);
W. Wade Ross, State Director, Texas Small Farmers & Ranchers/CBO;
Paco Valentin, State Director, USDA Rural Development (RD)

Dr. Joe Leonard, USDA Office of the Assistant Secretary of Civil Rights (OASCR)
TSFR/CBO New Meeting Location in Marlin, TX, August 18, 2016...Click here for meeting details!
Jimmy Scott at his tree farm in Douglass, Texas.

Agriculture Banquet

The Nacogdoches County Agriculture Committee will honor Jimmy Scott as the Pete Smith Agriculture Pioneer of the Year

at the Agriculture Appreciation & Awareness Banquet on Monday, April 11, 2016 at the Nacogdoches County Exposition & Civic Center. The award is sponsored by Heritage Land Bank.

BY John Boyette,

District Forester III,

Texas A&M Forest Service

Jimmy Scott is a quiet, modest man who has accomplished much and given back to his community even more. Scott was born and raised on a cotton farm in the Winter Hill community near Douglass along with his 11 brothers and sisters. He graduated from the C.L. Simon High School in Cushing, married his high school sweetheart Willie and moved to Dallas to begin his career with General Motors.

Although he lived and worked in Dallas, many of the neighbors in Winter Hill thought he still lived there because he came back so often to help out on the family farm.

After retiring from GM, Scott moved back to Nacogdoches in 1995 to raise cows. In 2000, he bought another 100 acre tract and started planting trees.

Scott hired his cousin to ride in the tree planter, and Scott drove the tractor. Together, they planted about 40,000 loblolly pine seedlings.

Today, Scott's tree farm is a showpiece that is often used as an example of how tree farming should be done. He has personally conducted a number of tours for other landowners and tree farmers. The most recent was a workshop hosted by Prairie View A&M for minority landowners in which Scott led the tour.

Scott can often be found on his tree farm clearing fence lines, maintaining fire breaks or improving his road system. He modestly said, "I like it to look nice."

Scott is a member of the Douglass Fire Board, the Angelina/Nacogdoches Counties Forest Landowners Association Board of Directors, the Deacon Board at Scott Temple Church of Christ, and the Texas Small Farmer and Ranchers/CBO Board of Directors.

Scott is a Certified Tree Farmer through the American Tree Farm System and a Certified Forest Steward through Texas A&M Forest Service.
TSFR/CBO Region 4 OUTREACH WORKSHOP, Saturday, September 26, 2015 with Topics: 1) National Agriculture Statistics for Black Farmers - 2) What to Expect When Visiting a USDA Center - 3) Cool Season Grass Planting - 4) Restocking Your Herd...Click here !
Robert Brown's Ranch Tour...Click here for details!
"Practicing Good Stewardship on Our Land"
What: 10th Annual Julius Clebourne Awards Banquet presented by Texas Small Farmers and Ranchers/CBO Region 2 and the Southeast Texas Landowners Association
When: Saturday, December 19, 2015 at 6:00 p.m.
Where: St. Francis of the Tejas Catholic Church Parrish Hall, 609 N. 4th Street, Crockett, TX 75835
Keynote Speaker: Dr. Don L. Renchie, Associate Professor and Extension Specialist, Texas A&M AgriLife Extension Service, Texas A&M University
Ticket Price: $15 (Includes Dinner and Dancing)
Contact for More Information and/or to purchase tickets: Lynn @ 936-222-0062
The proceeds from this event allow us to provide at least two academic scholarships for graduating seniors in the Region 2 area as well as several smaller donations to the participants of the Houston County Fair. Each year we invite the previous year's academic scholarship recipients to come speak at this event. We had about 100 participants last year.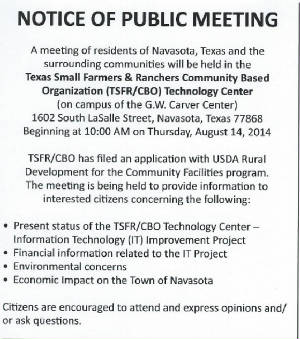 TSFR/CBO REGION 2 MONTHLY MEETING LOCATION CHANGE 1st Monday, @ 6:00pm - Houston County Electric Coop, 1701 Loop 304, Crockett, TX 75835
CLICK HERE for 2013 LOCAL WORK GROUP MEETINGS in your Texas county sponsored by USDA/NRCS. Local Soil and Water Conservation Districts are inviting the public to participate in identifying the source concerns and conservation priorities in meetings to be held across all counties in Texas. The meetings will focus on the Environmental Quality Incentives Program (EQIP), but also on the new resource concerns identified in the recently passed Food, Energy and Conservation Act, also know as the 2008 Farm Bill.
How to Construct a High Tunnel/Hoop House Workshop - Click Here!
TSFR/CBO Member HENRY L. DAY Receives Outstanding Conservation Rancher Award! Cick Here
Click here - Willie Holmon, USDA/NRCS Soil Conservationist Honored by TSFR/CBO
Kanand Brooks Honored with the 2012 TSFR/CBO Partner of the Year Award - Click Here!
Click Here - TSFR/CBO IS "ON THE ROAD" REACHING OUT TO EAST TEXAS
Socially Disadvantaged Farmer/Rancher in Texas? Click Here!
Click Here for DEFINITION OF TRADITIONALLY UNDERSERVED GROUPS
Click here for 2012 CONSERVATION PLANNER CHECKLIST
Click here for information on THE PIGFORD CASE: USDA SETTLEMENT OF A DISCRIMINATION SUIT BY BLACK FARMERS
Click here for 2007 Department of Agriculture Facts Sheet for Black Farmers
Estate Planning or other Legal Questions? Click here to contact Ike Mills
Click Here - Texas Farmers, Ranchers Harvest Bounty of Success through Conservation USDA-NRCS Recognizes Landowners during National Agriculture Week March 15-21
Click Here for "TIPS FROM WADE"
Click Here - Mid-Contract Management Practice for Emergency Forestry Conservation Reserve Program and State Acres for Wildlife Enhancement
Click here for Highlights & Pictures of 4th Annual Youth Career Workshop
Click here for - "TALES FROM THE FARM"
Click here for for information on How Proper Use of Soil Testing Can Give You an A+ in Profitability
Click Here for Suggested Topics for TSFR/CBO Regional Winter/Spring Monthly Meetings
Click here for Highlights, Pictures and Acknowledgement of Sponsors for 2008 Ag Youth Career Workshop
WILL THE IRS VIEW YOUR RANCH AS A HOBBY?
IRS lists nine factors used to determine if your ranch is profitable, or not.
Many livestock producers have a full time outside job, or derive their primary income from a source other than their farm.

You may call yourself a "hobby farmer", but care should be taken in how you operate your business as the IRS has special guidelines that may classify you as a not-for-profit organization and disallow many deductions you may otherwise be entitled to.



IRS Publication 225

is a must read for any person operating a livestock ranch or farm, regardless of your size of operation.

In it, the IRS lists nine factors used to determine if your operation is for profit, or not. All factors are taken in to account and no one factor is decisive:
You operate a farm in a businesslike manner.

The time and effort you spend on farming indicate you intend to make it profitable.

You intend on income from farming for your livelihood.

Your losses are due to circumstances beyond your control or are normal in the start up phase of farming.

You change your methods of operation in an attempt to improve profitability.

You, or your advisors, have the knowledge needed to carry on the farming activity as a successful business.

You were successful in making a profit in similar activities in the past.

You make a profit in farming from some years and the amount of profit you make, and

You can expect to make a future profit from the from the appreciation of the assets used in the farming activity.